John Plant, composer
N.B. A more personal musical autobiography, reaching back to childhood, can be found in the five blogs entitled 'Beginnings.'
Always torn between literature and music, I studied both at Middlebury College, and began a Ph.D. program as a Woodrow Wilson Fellow in comparative literature at Harvard. The Vietnam war brought me to Canada, where I continued studying composition at McGill. I owe an incalculable debt to my three composition teachers: George Todd at Middlebury, Bruce Mather and Charles Palmer at McGill.
My compositional career took flight with a series of works for choreographers Peter Boneham and Jean-Pierre Perrault of le Grouped e la Place Royale, culminating in three dance operas, in which the dancers performed the score while executing the choreography. These works premiered at the National Arts Centre in Ottawa, and subsequently on tour throughout Canada, England and France.


Janet Oxley, Cathy Kyle, and Tassy Teekman in The Collector of Cold Weather, 1979.
Until 2011 my music was primarily vocal, reflecting my fascination with literature,
languages, and the human voice. Much of it was directly inspired by the radiant
voice of my life partner, Jocelyne Fleury. She can be heard in two CDs devoted
to my vocal music: Canciones del alma (With Quatuor Claudel, SNA-825) and
Babel is a blessing: Vocal Works in Eight Languages (with Ensemble Prima, conducted
by Mélanie Leonard, MSR -1327), and on this site. Though she recently retired from singing,
she is deeply entwined in every note I write; her imprint on the DNA of my music is
indelible. .
I was thrilled to participate in the Elizabeth Bishop centenary project in 2011, initiated by soprano Suzie LeBlanc with Sandra Barry and the Elizabeth Bishop Society of Nova Scotia. I contributed a setting of Sandpiper (voice, clarinet, piano) and Sunday 4 A.M. (voice, string quartet). The resulting CD, I am in need of music (with fellow composers Emily Doolittle, Alasdair Maclean and Christos Hatzis) was a finalist for the Nova Scotia Masterworks Award.
Suzie LeBlanc and Blue Engine String Quartet recording Sunday 4 A.M.
Instrumental works have taken a somewhat larger share of my attention since 2010, but even these sometimes have a theatrical, dramatic or text-based source. A key work in this shift of focus was A deep clear breath of life, for saxophone and piano (Boston 2013, published by RC Editions.) This work , commissioned by Peter Kovner, inaugurated a love
affair with the saxophone which culminated in two further works: Insomnia, for soprano,
saxophone and piano, commissioned by Michael Couper and Jennifer Bill, and premiered at
Carnegie Hall in October 2015; and Faustus: a SaxOpera, a concerto for alto saxophone and
large wind ensemble, commissioned by World-Wide Concurrent Premieres Commissioning
Fund (Boston 2015, San Diego and Wolfville 2016, Calgary 2017, and others). At the request of the commissioning saxophonists, I made two new versions of 'Faustus'- one for saxophone, harp and piano (North American Saxophone Alliance 2016; Tanglewood 2017), and one for guitar, and piano (World Saxophone Congress, Croatia, July 2018).
I have composed two operas: The Shadowy Waters (Montreal 2005), and I will fly like a bird, inspired by the Robert Dziekanski tragedy (Scotia Festival,
Halifax, 2012; staged by Opera Nova Scotia in 2015 and by Chicago's Thompson Street Opera in 2019. This opera was listed among the Best Operas of the Decade by Opera Canada; and the Thompson Street Opera received an Honorable Mention for 'Best in 2019' from Chicago Classical Review.
Below: Marcia Swanston as the Mother
in Halifax; Marissa Simmons as the
Mother in Chicago; Clayton Kennedy
as Robert in Halifax.





Clarinettist Dominic Desautels commissioned a sonata for clarinet and piano, inspired by the work of Ursula LeGuin, 'Earthsea Sonata,' I wrote to the great writer for her permission, and promised to send her a recording of the premiere. Shortly after sending it, I received news of
her passing and was deeply saddened to think that she would never hear the work she had inspired. Two days later a card, beautifully handwritten and accompanied by one of her drawings, arrived in the mail: 'Dear John Plant.. The music is beautiful, and the performance is stunning. It's a treasure."

The Heart of Things, an opera for actors written in collaboration with playwright Wanda R. Graham, for six actors, large virtual orchestra and electronics, was workshopped online in April 2022. Heat Theatre plans to perform the work in its 2023-2024 season. More information here.
West Jeddore, commissioned by Louise Bessette for her concert series
'Un piano autour du monde,' was my first work for solo piano in nearly
fifty years. It will have its first performance in Halifax on October 14, as
part of the Cecilia Concerts series. It was followed by En pièces détachées,
a group of six piano pieces commissioned by Peter Kovner. Yoshiko Kline
premiered four of the pieces at the Rivers School Conservatory Seminar in
Contemporary Music in March 2023, and performed the cycle complete
at Tanglewood in July.
N
Yoshiko Kline performing En pièces détachées.

There are, of course, many key works I have not mentioned here, but they will be found under 'Music' - and more stories of their genesis will be found in the blog. I have no stylistic agenda other than that of continuing to forge a musical language which is personal, emotionally compelling and moving. This is a process of continual discovery, involving an ever-enlarging sense of the expressive capacities and technical resources of the voices and instruments for which I write. Each new work brings new surprises, for me and I hope for my audience., Nova Scotia.rite your text here...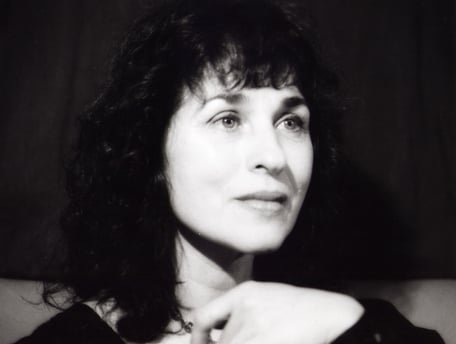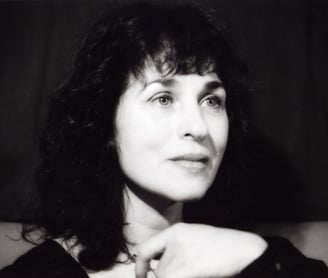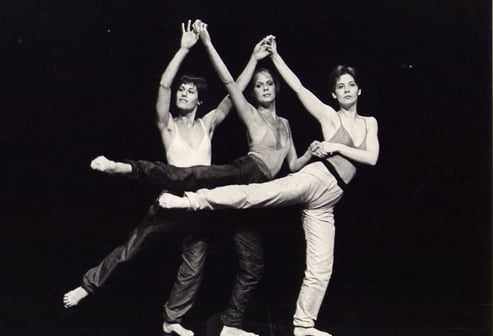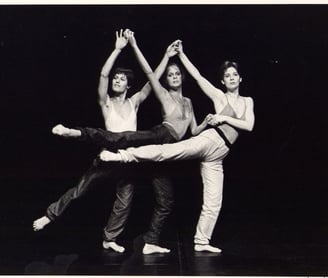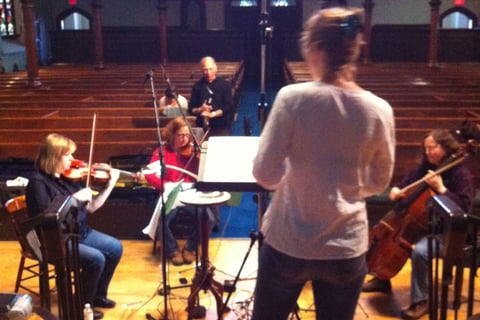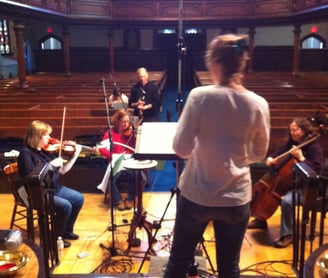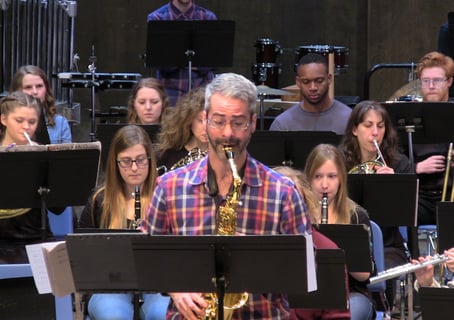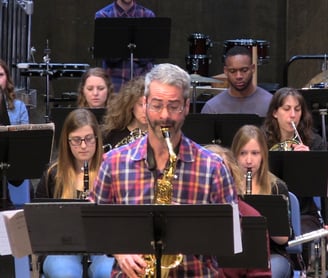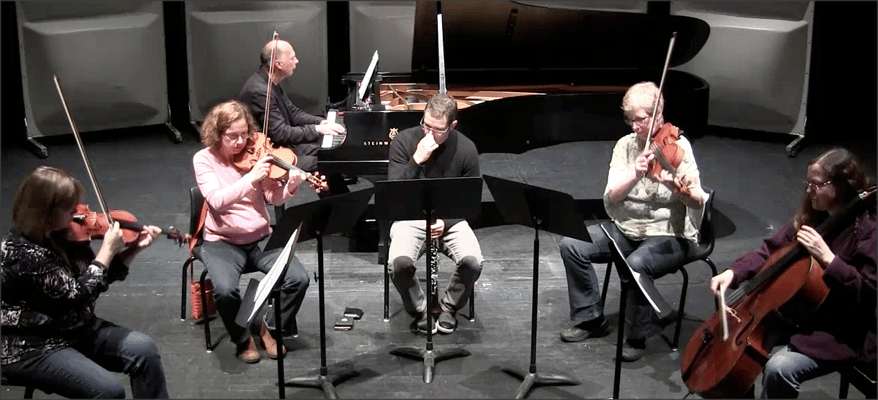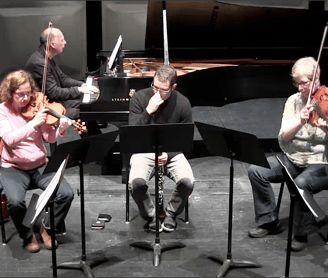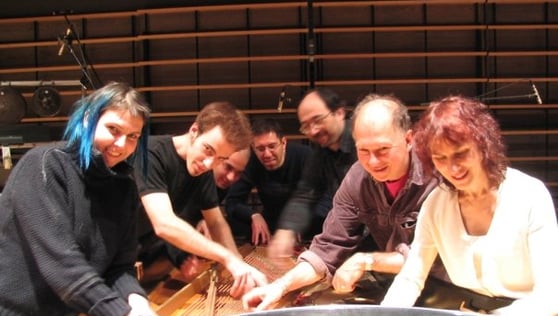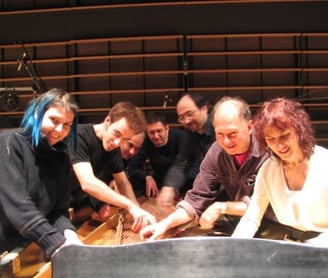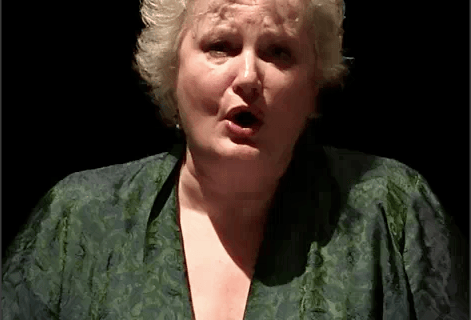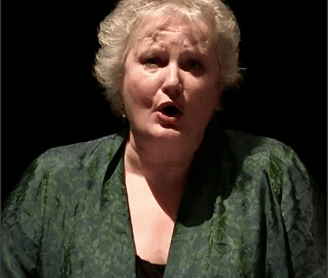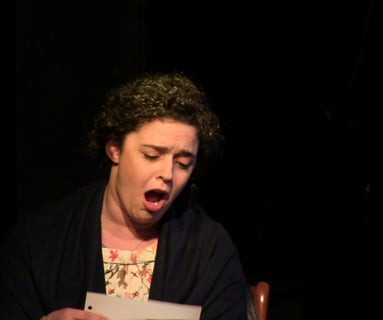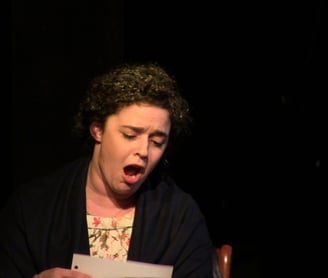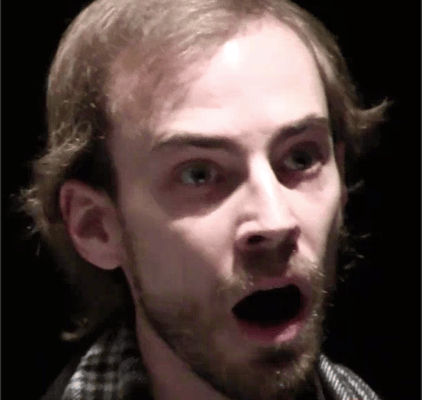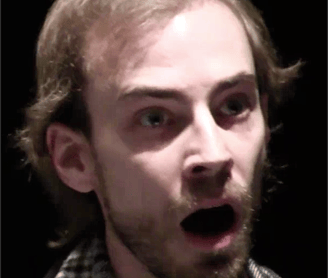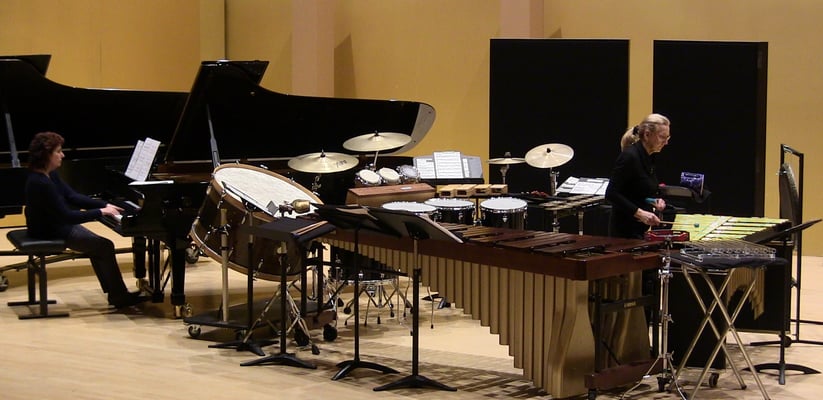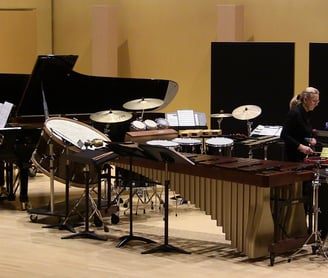 My
My Three Echoes of the Odyssey (Canada Council grant), for percussion and piano, was premiered by Marie Josée Simard and Louise Bessette at the Conservatoire de musique de Montréal on February 16, 2020.
th
ree Echoersd of the Odyssey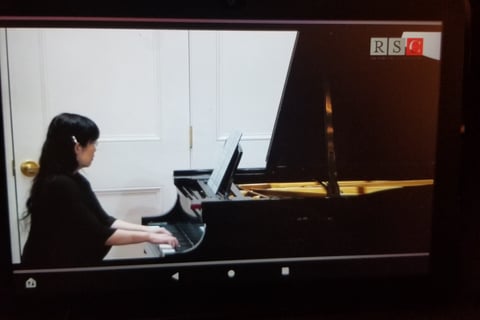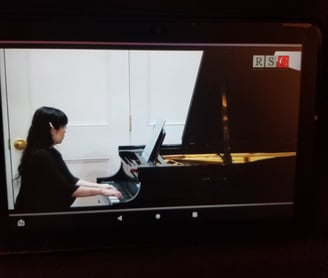 Tristan de Borba and the Acadia Wind Ensemble

r.
Rehearsing I will fly like a bird in Halifax. Jennifer Jones, Anne Simons, violins; Micah Heilbrunn, clarinet; Susan Sayle, viola; Hilary Brown, cello; John Plant, piano
Recording The Shadowy Waters in Montreal, left to right: Caroline Lizotte, harp; Clayton Kennedy, baritone; Ziya Tabassian, percussion; Neil Aronoff, baritone; Franco Tenelli, tenor; John Plant, piano; Jocelyne Fleury, mezzo-soprano.
Louise Bessette and Marie Josée Simard, in Three Echoes of the Odyssey, Montreal 2019